Sept 7, 2023: Vitally PCH fourth in Bundeschampionat final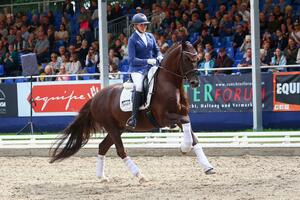 Sure does a canter like this make the rider smile: Anna and Vitally PCH in Warendorf. At the Bundeschampionat Anna and Vitally PCH represented the Fleyenhof very well. The stallion out of a famous dam is still quite green, but he has shown himself to be very serene and ranked among the best five year old dressage horses.
The two headed off to Warendorf on Tuesday already, because also the topic "show box" was completely new for the Vitalis-son. But he found it okay, and overall he was rather quiet in the stable.
On Wednesday morning we started with the qualification, in which he was well-behaved, but quite fresh. Walk and trot he showed in the best way, whereas in canter a little energy came through. But the ranked fourth, so secured their spot in the final - our tournament goal was already achieved.
The next two days we used for canter work, and I was very pleased that in spite of the foreign environment both horse and rider were receptive and performed very well.
Maybe that's why the Weihegold son ran like a string through the final test. This is a very long and demanding test for five-year-olds, but Vitally did an excellent job. The result was fourth place with an overall score of 8.5. And for handling and character he gets another ten from us!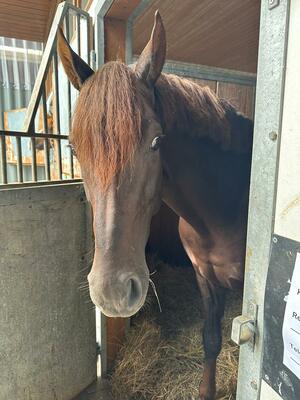 A somewhat shy look in the beginning, but Vitally PCH adapted very quickly to the new environment.