Dec 18, 2017: What a weekend!
My calendar for Frankfurt was quite full - and the list of events was similarly long...
I'll start with the most experienced one, Imperio. In the Grand Prix he performed really well, although we had mistakes in the flying changes and he was a bit strong in the last extended trot. But Piaffes and Passage were good, and in extended trot and travers we were scored with nines - more than ok with me, and we came in second. When preparing for the freestyle, Imperio really surprised me: He was really wild. Unbelievable that only a few weeks ago, I had his blood tested because he felt so overall calm to me, even when hacking him... I would say that in Frankfurt, he showed clearly that he is totally ok. I was even in doubt if I should compete at all? But our national coach encouraged me, and it went better than I had feared. In the end, we made it to rank three.
In the Nuernberger Burg Pokal, Toscana and Escolar showed their abilities. The seven year-old mare is not overly experienced, but she did really well. In the first test, we had a mistake in the flying changes and became sixth. In the final, Toscana was impressed by the packed and rather tight arena. Expecially one corner seemed dangerous to her, and we again had mistakes in the flying changes every fourth stride (in both tests, the changes at every third stride went well!). After all, she scored 70.3 per cent and was the best seven year-old in the competition.
I had been hoping that Escolar might win the final. Unfortunately, during the walk in the first test our big boy noticed that he's the only horse in the big arena... So he was more into calling for other horses, less about collection. In the pirouette, he started cantering - he never liked those anyways. Still, trot and canter were just excellent, which can be seen in several nines and one ten. And in the final, Escolar was totally with me, not at all impressed by the crowd. Scoring 0.6 per cent less than the winner, we became sesond - at least the spectators had a different view on this. I am glad that they liked Escolar so much and really appreciate the applause and cheers. In the evening, the best three horses of the final were shown in a freestyle, and here Escolar received his well-earned golden ribbon.
Nov 20, 2017: Fourth in Grand Prix, third in Spécial
I am overall and totally happy about Imperio, who showed two very good tests in Stuttgart. Although, right after the Grand Prix, I felt totally different: Unhappy with horse and scores alike. Later that day, I watched a video of our performance and had to admit that I was wrong with the horse as well as with the judges. It was actually me who wasn't at his best, but rather hectic. I obviously wanted too much.
But Impi proved his great shape in the Spécial, being very fresh - and not being held up by me... We ended on ranks four and third, which met our performance.
Nov 15, 2017: Four wins at Nuremberg
This view back to Nuremberg comes a little late, but that great weeekend is absolutely worth it... Which is less about four golden ribbons, but more about how the horses performed.
Imperio's last show was Aachen - but he proved very well that we did train hard over the summer. He presented himself very well in the Grand Prix as well as in the Freestyle. On the first day, we had a major mistake when he stopped cantering right before the flying changes. Of course did that affect the scoring, but in the end, we did still win. In the Freestyle, all went well - we did once again come very close to the 80 per cent, but it was a rather safe win.
For our sevey-year olds, it was the last chance to get a ticket for Frankfurt. Toscana performed extremely well on the second day, and although she changed leads right before on of the pirouettes, she also won this class. So she will be Escolar's company for the Final of the Nurnberger Burg Cup. His little brother Escorial was rather impressed by the arena's atmosphere, was rather tense in walk and generally a little upset. Maybe for him, the break between shows (his last being Munic in May) has been too long? He ranked third and ninth.
This weekend, we'll be at Stuttgart: Imperio will compete in the Spécial-Tour, and Escolar comes with us for training purposes.
This weekend, we will go to Nuremberg, where the horse-fair "Faszination Pferd" is taking place. Imperio will compete in the Grand Prix. The seven-year olds Toscana and Escorial are taking part in the qualification for the Nuernberger Burg-Pokal. It'll be the last chance this year to qualify for the final - let's see...
Oct 29, 2017: Nice rounds at a nice show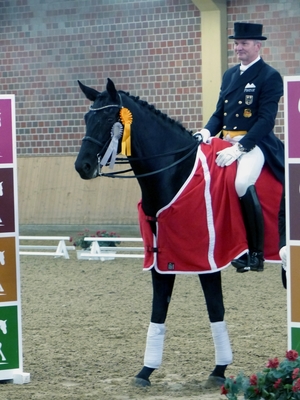 The Riding Centre "Massener Heide" at Unna is offering great conditions for us riders. I had taken Escolar as well as Toscana for the Prix St. Georges. Both had their last appearance at a show several months ago.
No wonder that Escolar was somewhat excited. So maybe for that reason I worked him slightly too much in the warm-up, so our "Moby Dick" showed less fresh than I would have wanted for. Definitely my mistake, and he still cashed in several Nines - for the canter. The final score was 78.659 per cent.
After Munic in May, this was the second test on S-level for Toscana. The seven-year old black mare behaved like an experienced horse from beginning to end, no sign of excitement. During the competition she co-operated very well, and got Eights for her walk and her canter. Unfortunately, towards the end of the test, at the end of the extended canter, she fell into trot instead of cantering. I am not even too sure whether this was her or my mistake... Anyways, the score for this part were rather low, but our total still was 71.789 per cent.
During the ceremony, too, Toscana behaved just like a professional when being awarded her silver and Escolar's golden ribbon .
August 24, 2017: Congrats!
Easy thing to be excited in spite of being hundreds of kilometres apart from where the action is... As "non-travelling reserve", Impi and I could calm down once our horses had passed the vet-check. But of course did I follow the competition in Gothenburg closely, was in touch with riders and trainers - and somewhat excited! Well done team, taking team gold so dominantly. Congratulations, and keep going!
I guess that it does not come as a surprise that my expectations towards Aachen were a little higher...
I can't even tell exactly what's been wrong with Imperio in Grand Prix and Special. Most likely it was me who wanted too much. After all, we were in Aachen, and we were hoping for a nomination for the European Championships. So right the first trot extension, which often counts for a Nine with him, should prove it all - but obviously, I made too much pressure. Definitely not a great start, and even though we showed several good moves, it seemed a bit as if the judges' decision had been made by then. Yes, the piaffes weren't Impi's bests, but the pirouettes as well as the half-passes were great. In total, we got 71 per cent, rank 15. In the Special, the trot extensions were back to normal, all but the last one, during which he again pulled up his head. Due to the strain, I also took a wrong course, so we ended up with less than 70 per cent and will be the reserve for Gothenburg.
Escolar did very well in the St. Georges. Walk and the first pirouette weren't great, but apart from that I was content. His extended canter, usually rewarded with a Nine or even better, obviously couldn't convince this time - the average score was less than eight. I wouldn't have complained had we scored more than close to 71 per cent, but in the end we were third in this tough competition.
The Inter I was a special competition. Before us, a mare was in the arena, and we had to pass her when coming in. Our "little one" was quite confused, which we couldn't overcome during the whole test. We had several great moments, but also several less great ones, and took rank 7 with 68 per cent.
July 10, 2017: Escolar proves his class
Escolar was just super, we had two really great competitions. Although at first, he was rather nervous, in the stables as well as in the warm-up arena. I like him being fresh like that, but it wasn't much of a surprise that in the first competition, he could not show his really good walk. But as everything else was totally ok, we scored a winning 79.463 per cent.
On Sunday Escolar felt at home, and we had summerly temperatures - he was much calmer, especially in walk. It was most likely due to the warmth, too, that we made major mistakes in the flying changes: Escolar tripped, so we had to add one more change. Of course, the scores were really low. But in total, he again performed really well, so we were rewarded with 80.415 per cent. In 20 years of qualifiers for the Burgpokal, this is the highest score that has ever been achieved. Congratulations, Escolar!
Also competing at Bettenode were Ivan and the Westphalian Sonnentanz (by Sorento).The five-year-old won his Dressage Prospect on Level L with 8.4 points, which means that he is qualified for the Bundeschampionat.
And last, but not least, we met Emma Kanerva. She is back in Germany, working in a stable in the Hamburg area. Unfortunately, whenever we met one of us was sitting on a horse, but it was still nice to see her.
To get prepared for Aachen, our "big boy" will compete at Hof Bettenrode near Goetingen next weekend. Looking forward to see how Escolar will present himself!
June 12, 2017: Bronze for Imperio, "master student" Escolar
This was definitely a great weekend: Both horses performed really well, and the results are presentable. The reward was one Bronze (as a medal) and one Gold (as a ribbon).
Imperio was simply brilliant, which clearly showed in the results. We had several 9s, and even one 10 for the extended canter. Even though he gave me a great feeling during training and showed his best in Munich just weeks ago, I had not really expected to come in third in both tests, Grand Prix and Spécial. Especially as in Munich, Dorothee Schneider and her Sammy Davis jr. had the clearly better scores... So the Bronze medal in the National Championship is a real pleasure.
And I was wishing for more, and Imperio felt really good and fresh in the Freestyle, but for some strange reason, during canter he fell back to trot once. I did react a bit strongly, so he bounced forward - that did cost us several points. I still don't know what exactly had happened, as he usually doesn't do this. I even don't think that it was so much my mistake, however, it did happen. In the end, we still had a score of more than 80 per cent, a first for Impi in a freestyle, so our performance must have been ok.
Escolar had a qualifier for the Nuernberger Burg Pokal on his list. Based on an extra training session the week before, he behaved really well at Balve and straight away won the introductory class. Unfortunately, in the qualifier itself, he got distracted by another stallion whinning loudly in the neighbouring warm-up arena, which most likely cost us the victory. But it's still early in the year, and we will make better use of our next chance.