Oct 29, 2017: Nice rounds at a nice show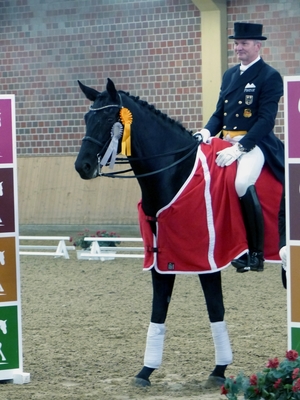 The Riding Centre "Massener Heide" at Unna is offering great conditions for us riders. I had taken Escolar as well as Toscana for the Prix St. Georges. Both had their last appearance at a show several months ago.
No wonder that Escolar was somewhat excited. So maybe for that reason I worked him slightly too much in the warm-up, so our "Moby Dick" showed less fresh than I would have wanted for. Definitely my mistake, and he still cashed in several Nines - for the canter. The final score was 78.659 per cent.
After Munic in May, this was the second test on S-level for Toscana. The seven-year old black mare behaved like an experienced horse from beginning to end, no sign of excitement. During the competition she co-operated very well, and got Eights for her walk and her canter. Unfortunately, towards the end of the test, at the end of the extended canter, she fell into trot instead of cantering. I am not even too sure whether this was her or my mistake... Anyways, the score for this part were rather low, but our total still was 71.789 per cent.
During the ceremony, too, Toscana behaved just like a professional when being awarded her silver and Escolar's golden ribbon .